Does It Matter Where You File For Military Divorce?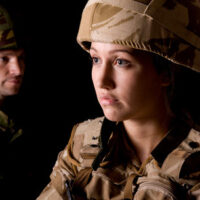 The state of Georgia is home to many military and service members who proudly protect and defend our nation. Military life is challenging with constant moves, unpredictable work shifts, and the possibility for deployments. Marriages can be difficult under any circumstances but military marriages face more adversity given their unique situations. If spouses decide to divorce, and one is a member of the military, they face even more challenges than their civilian counterparts. Making the decision where to file for divorce after having moved several times, owning property in different states, and now deciding to get divorced in a new state can be especially problematic.
Options For Filing
Unlike civilian divorces, military divorces are governed by both state and federal law. However, the state law will significantly impact several aspects of a divorce such as child support calculations, alimony calculations and the division of property. Divorce laws are different in every state and this is why it is critical to analyze which state is best for a military family to divorce in. Other reasons also impact your decision to file in different venues for divorce including the following:
Uniformed Services Former Spouses' Protection Act (USFSPA) requires that the state that the military service member official resides in has the power to divide the military pension. Therefore, if you determine that you should file for a divorce in a state other than that state, it may not have the legal authority with regard to this matter.
Child Support and Custody
Every state has its own set of calculations by which child support is determined and child custody arrangements are granted.
Alimony and Spousal Support
Different states have very different laws regarding the calculations of spousal support and alimony.
Possible Venue Options
Service members may file for divorce in the following states:
Where the military spouse is presently stationed;
Where the military spouse resides legally; or
Where the non-military spouse currently resides.
Special Rights of Active Duty Military Members
If a military spouse is on active duty, they have rights under the Servicemembers Civil Relief Act (SCRA). In certain cases, a military service member may apply for a temporary halt to any civil action, which includes legal actions such as divorces and child custody proceedings, while they are on active duty, or within 90 days from their release from active duty.
Contact an Attorney Today for Help 
No divorce is an easy process.  However, divorces that include one spouse in the military can make the legal process even more complicated. Understanding what your rights are within a military divorce, what venues are available to you, what venue would be most advantageous to file a divorce in, and what actions may temporarily halt your divorce proceedings can be discussed if you contact an experienced Atlanta divorce attorney at The Solomon Firm. Call one of our compassionate attorneys at 404-565-0641 today for a free consultation, and to help you understand your legal rights as a military spouse.